A 40-year-old man from Okpoma village in Yala Local Government Area, Cross River State, Dominic Iyayi Ogar, has thrown his in-laws into mourning following the gruesome murder of his wife and their only daughter.
Ogar is alleged to have committed the dastardly act on October 8, 2016 in Mpape, Abuja. Sunday Sun reporter learnt from the Commissioner of Police, Federal Capital Territory Command, Mr. Mohammed Mustafa, that Ogar, who slept with his wife and their only daughter on the same bed, woke up suddenly in the middle of the night, took a knife and stabbed both of them to death, and they died instantly..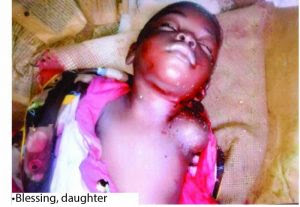 Mustafa said that Ogar then carried the corpses of the dead 27-year-old wife, Omago and the daughter, two-year-old Blessing to a nearby nursery and primary school in the area; he allegedly wrote a small note and dropped it beside the corpses and then ran off to hide in his farm.
"It was later that I saw the two corpses where the husband dropped them. I shouted and called our neighbours. We then ran to the police to report what we saw. We started searching for the husband. It took four days before we found him and arrested him in his farm on October 11, 2016.
Following the arrest of the suspect, the corpses of the deceased were moved to the mortuary of the National Hospital, Abuja.
At the Criminal Investigation Department of the FCT Police Command, where he spoke with Sunday Sun, Ogar said:
As it stands now, Mustafa said that Ogar's hope of surviving in life now lies at the discretion of the court where he would soon be arraigned to answer charges.
Follow Us on Twitter!
Like Us on Facebook!
Do You Need a Sugar Mummy, Sugar Daddy, Girlfriend, Boyfriend Wife or Husband? If Yes, Then Click Here For Details